Hi everybody,
We've been quiet lately, and there is a good reason. We've been hard at work finishing our newest feature: Digital Asset Management. More on that below.
Before we get to that, I have a question for you. Is there some area of branding you would like to learn more about? We are working on a series of articles to help you learn more about branding, and we'd love to know what you want to learn.

Digital Asset Management
Our new Digital Asset Management feature brings lots of improvements to Baseline. Now you can upload all your digital assets to Baseline and keep everything in one place. No matter what kind of file it is.
You can also create folders, add a description, search assets, upload a newer version, see the history of changes, and more.
Uploads have been converted to Assets
Gone is the "uploads" tab in Baseline Studio, and an "assets" tab has been added in its place with all the new awesome features that come with assets.
Stock photos become assets
Stock photos will now be added to your asset library, making it easy to re-use them without searching again and helping you create your brand's visual identity.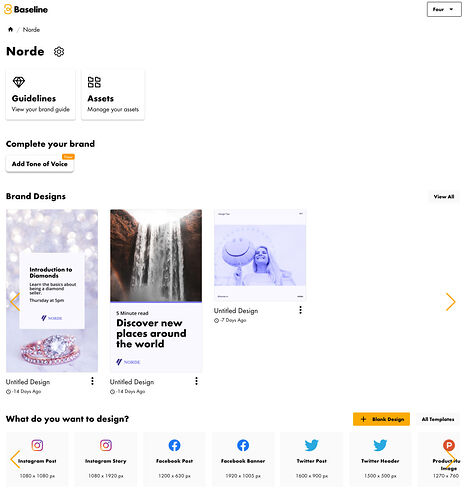 Brand-Focused UI
When logging in, things have changed a bit. Instead of taking you to a dashboard focused around you, you are presented with a list of all your brands. You then select the brand you want to work with and get taken to that brand's dashboard.
Context-aware navigation
Everything there revolves around the brand itself, making it a lot easier to navigate related brand features, such as viewing the brand assets, editing the brand designs, viewing the brand guide, and so on. Navigating back while editing a brand design will take you to that brand's dashboard.
Collaborate on designs
Every design that gets created for a brand is now available to everyone who has access to that brand and has permission to edit designs. This makes it so much easier to share designs with your clients and coworkers.
Warning: If two people are editing a design at the same time, there might be conflicting saves, which will cause potential data loss. We do plan on implementing history for designs in the near future to help with that. So be careful if it says the design has been edited recently.
Other improvements
We made countless little changes and improvements along with this big change, such as optimizing our servers so that static assets should load faster, no matter where you are located on the globe.